Corona disease 2019 and Parkinson's patients
20-12-2020 Vaccine against the corona virus for Parkinson's contenders:
To read the recommendation to get vaccinated by the Israeli Society for Movement Disorders...
Intimacy and Parkinson's - by Gila Brunner, senior sexologist
Below is a compilation of relevant information about Corona Disease 2019 and Parkinson's patients: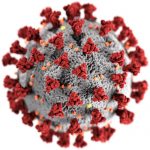 Corona is a contagious respiratory disease that can be passed from person to person. The elderly population (age 65 and over) is at special risk, but there is no known increased risk specifically for Parkinson's patients.
Support and assistance
[1]
The whole world is going through a big crisis - a crisis that requires us all to stay at home.
These are somewhat abnormal days, especially for you, the elderly and the sick,
The uncertainty and the many changes can overwhelm feelings of helplessness or anxiety.
My name is Noya and I have been a social worker at the Movement Disorders Unit in Ichilov for many years. In addition, I am a therapist and deal with crisis intervention and treatment.
If you feel emotional difficulty, increased anxiety, loneliness, I would love to talk to think together about possibilities to help and ways to cope better at this time.
Patients and their spouses, with emphasis and importance for the spouses as well, you are welcome to call and talk
On Mondays and Thursdays between 16:30-18:30 - by phone 054-9090291
Noya Geva
And both are healthy
The members of the Parkinson Association thank you Noya for the help you invite us to receive from you.
thank you very much from the bottom of my heart,
Riki Navon CEO
[2]
Dear Friends,
In these strange days, Dr. Simon Israeli-Koren, neurologist MOM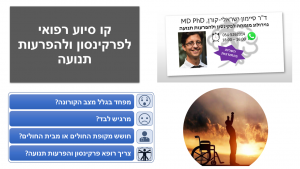 Ha for Parkinson's and movement disorders, decided to offer his services (via phone call or WhatsApp video) free of charge - 054-5262014 during the hours - 18:00 - 16:00
People with movement disorders or Parkinson's who need help / support
Or they have urgent medical questions unanswered by the health system.
Feel free to contact him directly.
Health wishes to all of us.
[3]
During this Corona period, we are all going through difficult and complicated days. It is even more difficult and complex these days to deal with illness and disability.
I invite you to call and talk to me, tell, vent your feelings, make things easier for yourselves.
By education I am a social worker, by profession I am a personal trainer for those dealing with chronic diseases and their families.
You can talk on the phone, and you can have a "virtual meeting" using Skype, Zoom or any other application.
I'm here for you (free of charge), Yala Kyler 052-8589888
[4]
Videos produced by the Neurological Association in Israel - the words of the experts to you