A glossary in three languages ​​- for the advanced stage of Parkinson's disease
"An article in walla written by Dr. Saar Anis - a senior neurologist for movement disorders, explains what the signs are that indicate that Parkinson's disease is progressing and how an accurate diagnosis and appropriate treatment enable quality of life and function alongside the disease."
Click here for the full article...
Parkinson's disease is sometimes complex, and many concepts related to it are not known to the general public.
The dictionary in front of you is intended to provide a convenient and clear interpretation of the various medical concepts related to the disease
Parkinson's. It provides information about Parkinson's disease and its symptoms, advanced Parkinson's disease, medications
Incidence of Parkinson's disease treatment and advanced treatments.
At your disposal is the dictionary in Hebrew, Russian and Arabic languages. We hope that this dictionary will be of help to you, will provide tools
for understanding the disease and its treatment, and will even help you deal better with the disease.
Please click here to watch a lecture by Dr. Sandra Benizri, a specialist in movement disorders from Assuta Ramat Ha'ayil Medical Center on the subject of advanced treatments...
The glossary for the advanced stage of Parkinson's was written by Dr. Zeev Nitzan.
The director of the service for traffic disorders
Barzilai University Medical Center
Click to download the dictionary in the desired language.

Served as a public service under the auspices of Abbvie.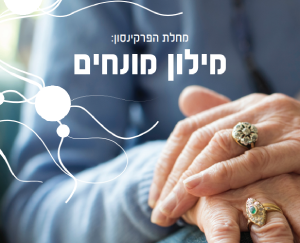 Duodopa pump treatment - Prof. Tanya Gurvitz, Director of the Movement Disorders Unit, Tel Aviv Medical Center, Ichilov
Infusion-based therapies for Parkinson's disease
Transfusion treatment for Parkinson's disease - how is it done Dr. Tzvia Faye Carmon - deputy of the Institute for Movement Disorders Shiba and Ms. Hana Strauss responsible nurse - at the Institute for Movement Disorders Shiba
A new service for Klalit policyholders suffering from Parkinson's disease
"Botox injections as a treatment for excessive salivation"
24-06-2021
One of the frustrating phenomena that affects the quality of life of Parkinson's patients is the phenomenon of excess saliva - excessive salivation (sialorrhea).
The weakness and slowness of the swallowing muscles means that the patients are unable to swallow the saliva effectively and saliva accumulates in the oral cavity.
The currently accepted solution in the world is the injection of Botox into the salivary glands. The botox toxin causes paralysis of the salivary glands and thus the production of saliva in a reduced amount.
The operation is performed under local anesthesia and is guided by an ultrasound device.
The service is intended for members of the General Health Insurance Fund who have a perfect
Performed at HaEmek Hospital, AEG Department.
For details you can contact Dr. Mickey Packer.
To send the request, contact the AAG Clinic of the Emek Hospital: 04-6494108