Service and support providers in Israel
Anne Breslav - dance teacher for Parkinson's contestants in Jerusalem
- Click on the image to open the image in full size with all the details:
Adv. Oded Bar 054-2088223 > Member of the Parkinson's Association in Israel and candidate
Attorney, member of an attorney's office, graduated with a bachelor's degree in law and a master's degree in business administration, deals in the field of civil law, which includes the field of family law.
Advises the members of the association in the areas of: contracts, wills and inheritances, lasting power of attorney, financial agreements and cohabitation agreements.
Grants to members of the association and their family members, consultation Initial phone call at no cost and without obligation.
Legal services for the members of the association and their family members will be provided At a discount of 30% of the rate
Click here to read a direct letter from Adv. Oded Bar...
The Israeli Society for Movement Disorders
The goals of the company: The goals of the company and its fields of activity 1. Promotion and development of the field of movement disorders from the clinical, research and teaching aspect; 2. Representing the field of diagnosing and treating movement disorders in Israel and promoting its recognition at the professional and public level; 3. Fostering relationships and cooperation between those involved in the treatment of headaches in Israel and maintaining an ethical-professional level; 4. Cultivating professional and scientific relationships with similar companies and organizations abroad. 5. Representing the field of movement disorders and promoting its recognition on the professional and public level
Tzipi Shapira, Gymnastics and Movement Institute - for women
A graduate of the "Wingate" Movement Center, she manages a gymnasium and has been a teacher of the profession for about 20 years.
Special specialization for Parkinson's - a group has been operating for about a year, with success. Possibility of personal training.
Details: Tzipi Shapira, Tel: 054-8597985 Email: T0556771327@GMAIL.COM
The hotline for senior citizens 8840*
In the Ministry of Social Equality, you are at your disposal during the Corona period on the following topics: rights, a listening ear, assistance in delivering food/medicine, and more. Dial *8840
Exercise instructor for the Parkinson's group in Beit Mazali, Petah Tikva
Zoom lessons twice a week. Every Sunday and Thursday at 16:00 p.m. Payment of NIS 200 per month through the Bit app.
Been working for four years
Contact: Miri Sloki, phone 054-7549909
Occupational therapist, working in rehabilitation for about five years
Specializing in acquired neurological injuries and chronic neurological conditions such as Parkinson's.
I worked in the establishment team of the project for the rehabilitation of Parkinson's patients at "Ezra Le Marfa".
In addition, I am a rehabilitative Pilates instructor. Teaches individually and in groups.
Offers individual Pilates treatments/lessons or organized small groups. in person or online.
Contact details: Naama Ezra - 054-4261693 , naamaezra2@gmail.com
The national plan for an active and healthy life - possible-healthy
Not moving out of the house? Move in the house! >> Click here
8 seated fitness exercises which are specially adapted for the third-year-old >> Click here
Sign up for the M.T.G. website.
Author content for retirees and start enjoying a large variety of lectures, workshops, courses, articles and a social network especially for you!
To register >>> Go to the site <<
Come learn to navigate the digital world and do everyday actions with ease!
Online meeting - 22 minutes one on one - on any topic, on the Dig:it website
The sessions are free and do not require special installation.
Want to know how to enter Zoom?
Open a Facebook account?
Shopping online?
Download photos from the mobile and more?
do banking, and more and more...
>>> Book a free appointment <<
---
The center for diagnosis and rehabilitation of driving skills - evaluation of medical fitness to drive
The service is provided at the Occupational Therapy Institute by a clinic with dedicated training and is subsidized for a limited period.
Rabin Medical Center, Beilinson Hospital
Phone: 03-93777582
fax: 03-9376620
Detailed information page click...
Questionnaire details click to download...
Confidentiality waiver form click to download...
---
Guided Imagery
A new Israeli study states: Guided imagination provides in-depth treatment for Parkinson's disease, with a 75 percent success rate. Following the treatment, patients report a new feeling of freedom of movement and control over their bodies.
Tomer and Mr. for further details…
---
ARAN - mental first aid
ARAN is a humanitarian service that offers psychological first aid over the phone and on the Internet, while strictly maintaining confidentiality and anonymity.
A person in crisis, feeling loneliness, disappointment, despair, thinking about suicide or is in mental distress for any reason, will find a listening ear and a sincere interest in his problems at the Aran. and the direction to various assistance services. in emergency situations.
E-mail : info@eran.org.il
Phone: 1201
Website: http://www.eran.org.il]
---
Yela Keiler offers members of the association and family members personal training
For more details click here...
---
Ministry of Health Medical Cannabis Unit (YKR)
https://www.health.gov.il/UnitsOffice/HD/cannabis/Pages/default.aspx
---
The opening of the center of the Association for Patient Rights at Sheba Hospital
The Patient's Rights Association is pleased to announce Opening of an aid center at Sheba Hospital, who provides answers and assistance to patients and patients, family members and visitors, in every question and issue relevant to the realization and exhaustion of rights in the health care system. The center provides a frontal service, available and accessible in the largest hospital in the country, to anyone who requires it and free of charge.

Hotline services:
- Providing information about medical rights in the health system.
- Application to the Social Insurance Institution / the medical institution, clarifying the treatment of the application and assistance in exercising entitlement
- Referral and routing to patient organizations and/or other assisting bodies
- Representation in court in principled cases
Location and contact:
Patient Rights Center, outpatient clinic building, entrance floor (next to the inpatient building).
The hotline operates on Sunday - Thursday at 9:00-13:00.
For more information and assistance: 03-5307000 / mzh@Sheba.health.gov.il
*The center was established thanks to the donation of Novartis Oncology and the cooperation of Sheba.
You are welcome to contact us for assistance (not only in Sheba matters).
---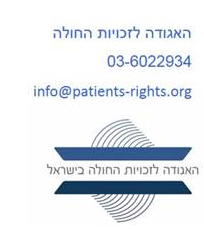 "Deat" - Information center for the public on health issues - Yad Sara
Provides free answers to all your personal health questions. Free medical information, in Hebrew and English. Assists in understanding the medical treatment will be sent back to you by regular mail. Phone number for your questions: 02-6444500
email:daatri@yadsarah.org.il
Sponsored by: "Yad Sara", "Hadassa" and "Deat" Medical Center 18/04/2014
---
The Office for Senior Citizens is a government office led by the Deputy Minister for Senior Citizens, Dr. Leah Ness. The Office for Senior Citizens was established as a government headquarters body to develop programs and services for the approximately 750 senior citizens living in Israel today.
Phone 8840*
---
The association helps patients and their families to exercise their rights in receiving the service from the health insurance funds, the hospitals and other medical entities in all fields
Facebook Page
---
"The Ambulance of the Wishes" is a project of Magen David Adom, whose goal is to fulfill the requests of people dealing with serious or terminal illnesses whose ability to move has been lost. This is a model they brought from Holland, according to which they equipped an ambulance with all the necessary equipment to help terminally ill patients make wishes come true.
The service is provided free of charge, regardless of religion, race or nationality, and in a warm, sympathetic, empathetic and embracing attitude.
---
---
---
Nursing services that are approved by the welfare and national insurance system and are certified by the Standards Institute
Sheba Hospital - Parkinson's and Movement Disorders Clinic
The Parkinson's and movement disorders clinic consists of a follow-up clinic for patients with movement disorders, a pacemaker clinic and a botulinum clinic. It is part of the neuroscience center's outpatient clinics and the neurological department, and coordinates the treatment of patients suffering from Parkinson's disease and other movement disorders.
Our vision is holistic, which means that the patient is at the center and not his disease.
---
The caring association :
Collecting medicines for the needy from people who no longer need them - spread out in all parts of the country

.

Instead of throwing away medicines, the "Friends of Medicine" association asks that we call them and they will collect the medicines from us

.

On Wednesdays, free consultation on medical insurance issues for patients
phone:03-5792220
Address: Shmuel Hanavi 4, Bnei Brak, PO Box 6782, Ramat Gan 52167

---